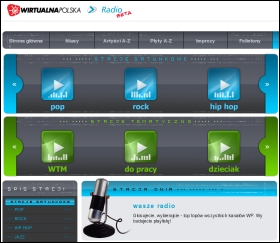 Internet Radio - Wirtualna Polska
During our work for Beat and Heaven Polska, we created a platform broadcasting audio streams for Wirtualna Polska.
Our aim was to create a structure of the whole platform and make a uniform interface available. The interface allowed to manage the whole music database and queue music for each music style channel.
The platform, which was launched on our servers and has been maintained by us, came to existence in November 2007. The platform was used by Internet Radio – Wirtualna Polska. Project was closed in August 2009.